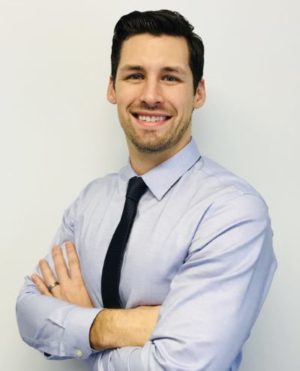 Dr. Zachary Molland, D.C.
"After seeing the power of Upper Cervical Chiropractic, I decided to dedicate my life to becoming a NUCCA Chiropractor"
When I was young my mother was in a terrible car accident that led her to seek NUCCA care for the first time.  After seeing the incredible results she had experienced I was instantly drawn to Upper Cervical Chiropractic.  Shortly after, I started my 7 year journey of learning from one of the best NUCCA Chiropractors in the country.
The next part of my Upper Cervical experience is really what solidified my future as a NUCCA Chiropractor.  While I was at Palmer College of Chiropractic my wife was playing on the rugby team.  During her many years of playing rugby she suffered multiple concussions, but the last game of her season gave her the worst concussion of her career.
That concussion left her unable to think, focus, and attend her necessary chiropractic courses.  She spent weeks in and out of the treatment rooms of the best chiropractors and medical doctors in the area, but she found no relief.  At this point she was considering taking time away from school because of her extreme symptoms.  She couldn't comprehend notes when she read them, she wasn't sleeping well, and noise and light gave her headaches.
For me, the worst part was feeling like a bystander as she began to lose hope.  But as a student, there was little I could do.  Weeks later I became an associate at an Upper Cervical Chiropractic clinic in Wisconsin.  While there, I convinced her to come in to experience an Upper Cervical treatment.  It was obvious after assessing her in this clinic that she was suffering from a severe misalignment in her Upper Cervical spine.
That day I gave my wife her very first Upper Cervical correction.  Immediately after, she slept for hours.  When she woke, had brain fog was gone.  Only days later she was back at school attending classes.  She could read again.  She could focus.  Lights did not bother her and she felt hope for the first time in months.
She made a full recovery from her traumatic head injury and only months later graduated with high honors.  It was her first Upper Cervical correction that convinced her to change her own path and become a NUCCA Chiropractor as well.
My favorite part about my Upper Cervical story is that the first life I changed with this amazing work is my own wife.  Now she is what drives me to be better every day!
Dr. Zachary T. Molland D.C.